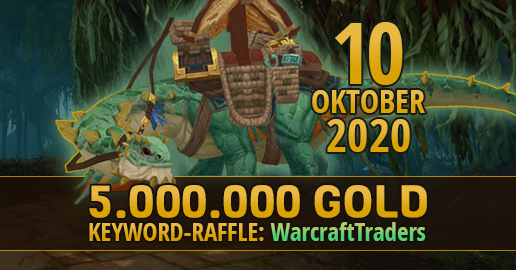 As you might have read in a news article, German (LINK)  there will be a "Bronto Parade" on Blackhand (Orgrimmar) on 10.10.2020 at 22 o'clock. Further information HERE <-
To celebrate the day I was able to organize a very sympathetic sponsor for my stream. The player Magicuz is giving away 5.000.000 gold to one of you in the name of his Discord: Warcraft Traders. The 5,000,000 gold will be raffled off on my stream with the keyword: WarcraftTraders.
How can I participate ?
The raffle starts at 11pm on twitch.tv/goldgoblinnet
You must be a follower of my channel and must not have won a Bronto with me.
From 23 o'clock on you can write the keyword:

!WarcraftTraders in the twitch chat

.
The winner will be drawn at 23:59.
What is Warcraft Traders?
In this discord you will find players who want to trade gold from server A to B. You think there's no more fast spectral tiger or magic hen's egg? You thought wrong! In this discord there are many traders who still offer a lot of rare TCG mounts for gold. Such tigers are today 30-50 million gold value and are therefore no longer offered in the auction house (10M Cap).
I would be happy if you would stop by in his Discord as a thank you for our sponsor!